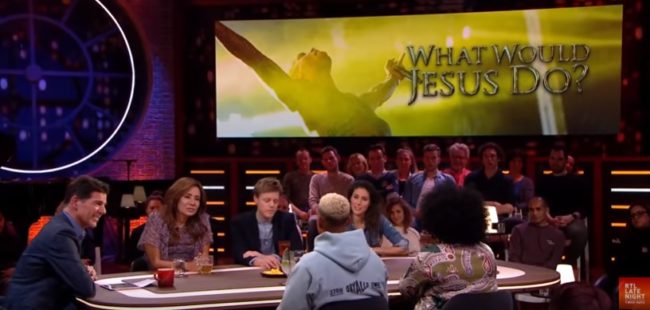 Een aantal weken geleden vertelden we op onze site dat Bizzey met een opmerkelijke titel naar buiten kwam voor zijn grote show in Amsterdam. We probeerden te achterhalen waarom het concert de titel 'What Would Jesus Do?' heeft. Afgelopen vrijdag vertelde de artiest bij RTL Late Night waarom hij naar Jezus in zijn show verwijst.
'Mijn show heet 'What Would Jesus do?', het is een bekende uitdrukking in Amerika en het betekent zoveel als; 'What's the right thing to do?'. Ik wil graag een super Amerikaanse show neerzetten. Groots!'
De grootse show is inmiddels uitverkocht, er zullen ook gastoptredens zijn van artiesten zoals rapper Boef en Frenna.
Vragen om met jongeren te bespreken:
Bekijk het interview vanaf 09:00 minuten. Wat vind je van de plannen van Bizzey?
Is de titel van de show: What Would Jesus Do? een goede keuze? Waarom wel/ niet?