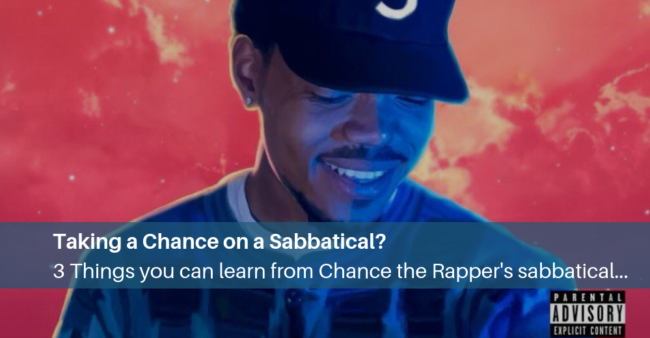 Chance The Rapper heeft het de afgelopen tijd erg druk gehad. Hij had een eigen musical en was druk bezig met lesgeven over de politiek in Chicago. Toen hij ook nog eens oom geworden was, besloot hij op een sabbatical te gaan om de bijbel eens goed door te lezen. De rapper wil tijdens zijn spirituele vakantie ook nog eens stoppen met roken.
'I'm going away to learn the Word of God which I am admittedly very unfamiliar with. I've been brought up by my family to know Christ but I haven't taken it upon myself to really just take a couple days and read my bible. we all quote scripture and tell each other what God likes and doesn't like but how much time do we spend as followers of Jesus to really just read and KNOW his Word.'
Een sabbatical is een periode (minimaal een aantal maanden) waarin mensen vrij nemen (of betaald vrij krijgen) en hun gewone beroepsbezigheden onderbreken. Een soort spirituele vakantie dus.
Vragen om met twintigers te bespreken:
Change The Rapper heeft drie redenen om een sabbatical te nemen. 1. Persoonlijk de bijbel lezen. 2. Hij wil de nieuwe bijbelkennis straks kunnen doorgeven aan zijn pasgeboren neefje. 3. Hij wil stoppen met roken.
Wat zou voor jou een goede reden zijn om een time-out te nemen?
Wanneer zou je kiezen voor een sabbatical? Wat zou jij doen tijdens zo'n spirituele vakantie?