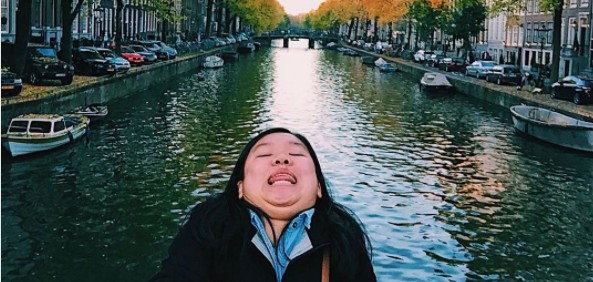 Selfiespot is hot. We zijn klaar met de perfecte selfies op social media. Steeds meer jongeren gaan met een dikke onderkin (#chinning) op de foto of op andere wijze die minder elegant is. Neem bijvoorbeeld het Instagram account Stefdies, op al haar kiekjes ligt Stephanie erbij alsof ze dood is. Het begon als een grap, maar al gauw werd StefDies een anti-selfiestatement. We moeten volgens haar af van alle perfecte plaatjes, want het geeft stress en is niet gezond.
Dove deelt op haar website in de UK de cijfers van onderzoek onder engelse meiden: 'New research commissioned by the Dove Self-Esteem Project showed that over 1 million UK girls suffer from low body confidence, with two-thirds admitting they feel prettier online than in real life.'
1 in 2 girls say they are using social networks 'all the time', across an average of 4 different networks and are increasingly considered as being 'always on'
The average UK girl takes 12 minutes to prepare for a single 'selfie', thus spending 84 minutes a week getting ready for selfies
The number of girls who say social networks make them feel worse about their appearance doubles between the age of 13yrs to 18yrs – 30% agree at 13yrs vs 60% at 18yrs
Girls aged 18-23yrs want three times more 'Likes' on social media than girls aged 13-17yrs
Vragen om met meidenwerkers, docenten en ouders te bespreken:
Dove startte in de UK met de hashtag #nolikesneeded, goed idee? 
Wat kun je (nog meer) doen om het zelfbeeld van meiden te stimuleren? 
Welk (ideaal)plaatje communiceer jij zelf over je leven via social media?
Maak vandaag nog een plaatje wat de titel 'selfiespot' waardig is!