Kesha heeft sinds vier jaar weer een nieuwe single. Praying is de eerste track van haar Rainbow album dat in augustus uitkomt. De zangeres blikt terug op een zware periode in haar leven. Kesha had een jarenlang conflict met haar producer Dr. Luke. Eind 2014 klaagde Kesha hem zelfs aan voor seksueel misbruik en psychologische mishandeling. De artieste heeft haar pijn, frustratie en leerproces omgezet in creativiteit. In een open brief op LennyLetter.com laat Kesha weten dat ze veel heeft geleerd de afgelopen jaren: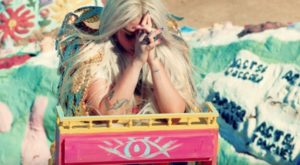 'This song is about feeling empathy for someone else even if they hurt you or scare you. It's a song about learning to be proud of the person you are, even during low moments when you feel alone. It's also about hoping everyone can heal, even someone who hurt you.'
'Praying" was written about that moment when the sun starts peeking through the darkest storm clouds, creating the most beautiful rainbow. Once you realize that you will in fact be OK, you want to spread love and healing. If you feel like someone has wronged you, get rid of that hate, because it will just create more negativity.'
Kesha heeft veel aan haar geloof en spiritualiteit te danken, ze vertelt:
'For me, God is not a bearded man sitting in the clouds or a judgmental, homophobic tyrant waiting to send everyone to eternal damnation. God is nature and space and energy and the universe. My own interpretation of spirituality isn't important, because we all have our own. What matters is that I have something greater than me as an individual that helps bring me peace. This is one of the reasons why I love swimming way, way out into the middle of the ocean and just letting the sea carry my body. It is my greatest form of surrender to the universe, a full-body prayer — or meditation. This song is about me finding peace in the fact that I can't control everything — because trying to control everyone was killing me. It's about learning to let go and realize that the universe is in control of my fate, not me.'
Vragen om met jongeren te bespreken:
Lees de open brief die Kesha heeft geschreven bij haar nieuwe single Praying.
Wat heeft ervoor gezorgd dat Kesha haar producer kon vergeven? 
Welke rol speelt het geloof of God in deze situatie voor Kesha? 
Kesha vertelt: 'I dragged myself out of bed and took my emotions to the studio and made art out of them.' Welke levenswijsheid kun jij hier uit halen?